On International Intellectual Property Day we want to stress the constant innovative vocation of Novapet, which since 1988 is dedicated to the production and marketing of chips, preforms, containers and other articles of polyethylene terephthalate (PET) and which has made possible the use of different grades of PET in applications previously reserved to other materials. Furthermore, with the creation in 2005 of the CTEPET (Technological PET Container Centre), composed of highly qualified personnel that currently accumulate more than a century of experience in the sector, as well as the acquisition of pilot methods and of prototyping that cover from polymerisation to the finished products, the development of highly specialised and novel PET solutions has been possible.

Below, we list some examples of the access to new markets and novel applications in PET:
PET with high fluidity for direct injection of technical parts.
PET that can be processed by extrusion-blowing to make hollow containers, allowing the direct incorporation of handles forming part of the container itself.
PET for forming solid parts by extrusion to be machined later.
PET for hot filling of blown containers starting from preforms.
PET to facilitate the heat-sealing of trays and flat containers.
PET for injection of thin walls (< 1 mm).
PET for forming of ovenable kitchenware (conventional oven, up to 220º C).
PET with inhibited crystallisation for injection and blowing of thick walls.
Solutions with increased gas barrier properties.
Specific references to make possible high levels of biaxial molecular orientation.
Formulations that allow important energy savings in the preform blowing processes.

All of this without losing the characteristic properties of PET in referring to sustainability and recyclability in the conventional recovery channels.
And if in any field the capacity of innovation, leadership and industrial and intellectual property are especially noteworthy, it is in that of the interactions of our materials and specific additives with electromagnetic radiation in all areas of the spectrum (UV, VIS and IR).
With more than 50 active patents on the five continents, some of them licensed to third parties, we cover any need for protection, whether of contents or containers, from the cited radiations. The forms of presentation are quite varied, from solid and liquid additives, to solutions directly finished in our polymerisation reactors ready for their direct use or dealing with traditional PET.

A result of these developments and patents, in the year 2007 Novapet placed on the market the first PET resin ready for its direct use in application of elaborating multi-layer (bilayer or trilayer) containers suitable for the packaging of longlife UHT milk: Novapet Dairy.
In 2008 the first PET resin apt for the elaboration of single-layer containers was developed, patented and marketed, made in injection equipment and conventional blowing, also suitable for the packaging and preservation of UHT milk, leading to Novapet DCU concentrate.

Subsequently different types of additives for different packaging solutions of products sensitive to electromagnetic (UV – VIS) radiations were developed, patented and marketed, with different final presentations, contents of loads, colours and applications. Some examples are the following:
Transparent and translucent coloured containers with specific protection in different areas of the spectrum, depending on the sensitivity of the active ingredients to the different irradiated wavelengths.
Solutions for single-layer containers in metallic finish, obtaining protections higher than 99.99% of the radiations with only1% of inorganic loads.
Additives for application in multi-layer containers, also minimising the load content.
A subsequent exceptional achievement led to a complete family of patents, allowing for the first time in the sector the elaboration of white single-layer containers for virtually complete protection in the entire spectrum.
It is important to highlight that all the solutions of previous single-layer containers were shown to be recyclable specifically in separate currents, and at present we are working on the validation of the processes in order to make such achievement a marketable reality in its reuse in contact with foods.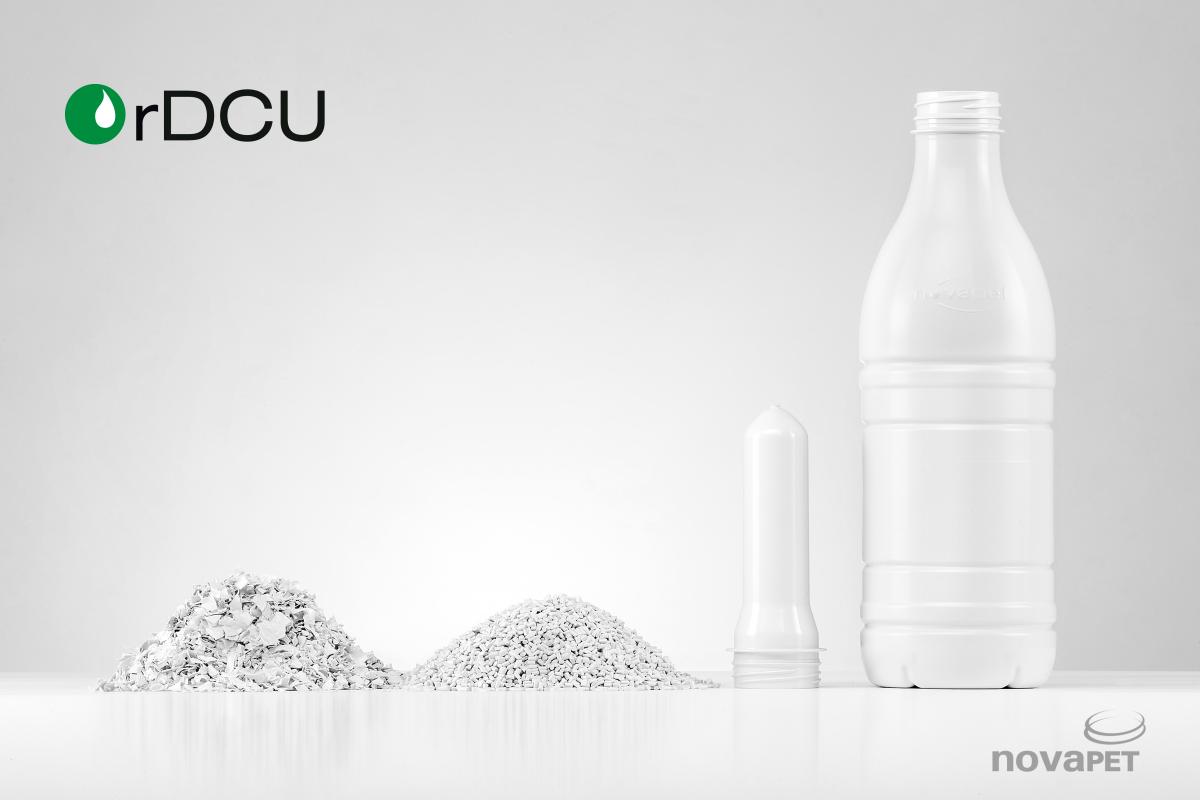 Demostrado queda que, en Novapet, por el amplio abanico de aplicaciones diseñadas, formulaciones, aditivos, referencias, soluciones, y un sinfín de acciones innovadoras que ha venido desarrollando desde sus orígenes, hoy celebramos el día Internacional de la Propiedad Intelectual con el deseo de seguir en el camino de la innovación y apostar por el conocimiento y aprendizaje colectivo de un equipo de profesionales que están a la vanguardia de las necesidades del mercado del envase de PET.
It has been demonstrated that at Novapet, due to its wide range of designed applications, formulations, additives, references, solutions and an endless number of innovative actions that it has been carrying out since its origins, today we celebrate the International Intellectual Property Day with the desire to continue on the road of innovation and being committed to collective knowledge and learning from a team of professionals that are at the vanguard of the needs of the PET container market.