Innovation in PET at the service of packaging
Offering innovation in PET for packaging is our company's mission summarized in three simple concepts that form part of our DNA:
INNOVATION in products, in services and in operations for the purpose of consolidating and extending the presence of PET in markets that are increasingly more diverse.
PET as our material of choice in offering to the packaging industry the triple advantage that defines this polymer: utility, quality and sustainability.
The CONTAINER that integrates the image and advantages of the material and the client's culture.
PET is usability
PET is an essential material in our daily lives. It is pliable, versatile, flexible and unbreakable while being hygienic and safe.

Strong and lightweight
PET is an extra light, practically unbreakable material, qualities that make its transport highly efficient.
​

Transparent
PET does not hide anything, it can be transparent, permitting the user to visualize directly the product that it contains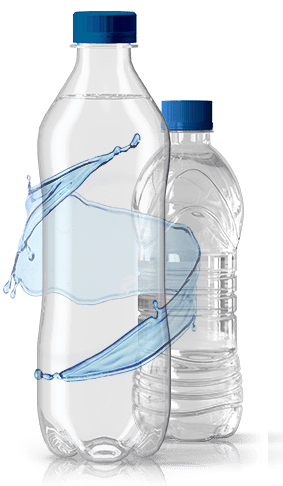 Flexible
PET is a material that allows comfortable and practical handling, favouring its use in daily tasks of our lives.

Hygienic and safe
PET guarantees hygiene and preservation of food for a long time, minimizing waste in the distribution chain.
PET is quality
At Novapet® we comply strictly with an endless number of quality regulations. We are, therefore, accredited by the highest organizations with regard to quality management and food safety, environmental management, energy management and corporate social responsibility.
Quality management system

This is the international certifying standard that regulates Quality Management Systems (QMS). The series of ISO 9000 standards promote the adoption of a process-based focus.

Food safety management system

This is a standard developed by the International Organization for Standardization on food safety during the course of the entire supply chain and recognized by the GFSI (Global Food Safety Initiative).

Environmental management system

This is the international certifying standard that regulates Environmental Management Systems, which seeks to reduce impacts on the environment and to ensure compliance with environmental legislation.

Energy management system

This is the international certifying standard that regulates the Energy Management Systems, which have as their objective the continuous improvement of energy efficiency, costs related to energy, and emission of greenhouse gases.

Corporate Social Responsibility

CSR is defined as the active and voluntary contribution to social, economic and environmental improvement by enterprises, generally with the aim of improving the competitive, evaluative and added-value situation, beyond the strict compliance with current laws.

Food safety

The AIB International Consolidated Standards for Inspection (GMP, Prerequisite and Food Safety Programs) are declarations that represent key requisites which must be fulfilled by an installation in order to maintain the manufactured, processed or manipulated products in a healthy and safe installation. The Standards reflect what an inspector would expect to see in an installation that maintains a safe processing environment for food.

Sustainability / Environment

In a new plastic-based economy, plastic never becomes waste or pollution. Three actions are required to achieve this vision and create a circular economy for plastic. Eliminate all the problematic and unnecessary plastic articles. Innovate to ensure that the plastics that we need are reusable, recyclable or compostable. Circulate all the plastic articles that we use to keep them in the economy and out of the environment.
In addition, we submit ourselves periodically to numerous audits by certifying agencies among which the following can be highlighted:
| | |
| --- | --- |
| | The Institut Fresenius is one of the main providers of chemical laboratory analyses in Germany, possessing a solid reputation among manufacturers, consumers and retailers, in particular, with regard to safety and quality of food, beverages and consumer products. |
| | AIB International. It helps the food manufacturers and distributors to improve their food quality and safety management practices, thanks to an international team of inspectors, trainers and scientists who work closely with companies around the world, applying profound knowledge and technical experience. |
| | The CSR Audit, or Corporate Social Responsibility Audit, provides a compilation of the best practices of techniques of ethical auditing, encompassing all aspects of responsible business management, covering four areas: Work, Health and Safety, Environment and Business Ethics. |
| | The SMETA Audit, also known as the Sedex Members Ethical Trade Audit, shows the active and voluntary contribution of an organization to social, economic and environmental improvement with the objective of improving their competitive, evaluative and added-value situation. The organization's joint performance evaluation system in these areas is known as the triple result. |
Learn about our SIG Policy and our Ethical Code
Novapet® designs and produces PET resins, concentrates, preforms and containers that are 100% recyclable from their origin.
PET is an ultralight, resistant and pliant material that in its transport produces a considerable reduction in the carbon footprint, and reduces up to ten times the volume and weight with respect to other types of containers.
Data:
In the production of PET containers, four times less carbon is emitted than in the production of glass bottles.
In comparing the environmental footprints of different packaging materials, plastic usually registered a better performance than glass or metal.
PET has the great advantage that it can be recycled very simply with a considerable savings of resources.
PET is the only plastic container that allows food recycling bottle by bottle, that is, from one single bottle, we can use 100% of it to incorporate it in the production of a new bottle that will contain a certain percentage of r-PET.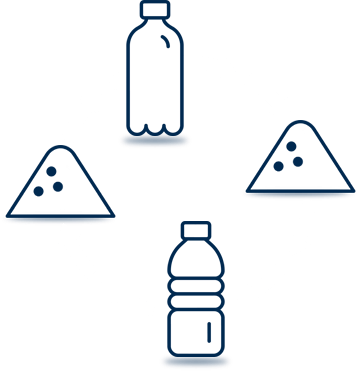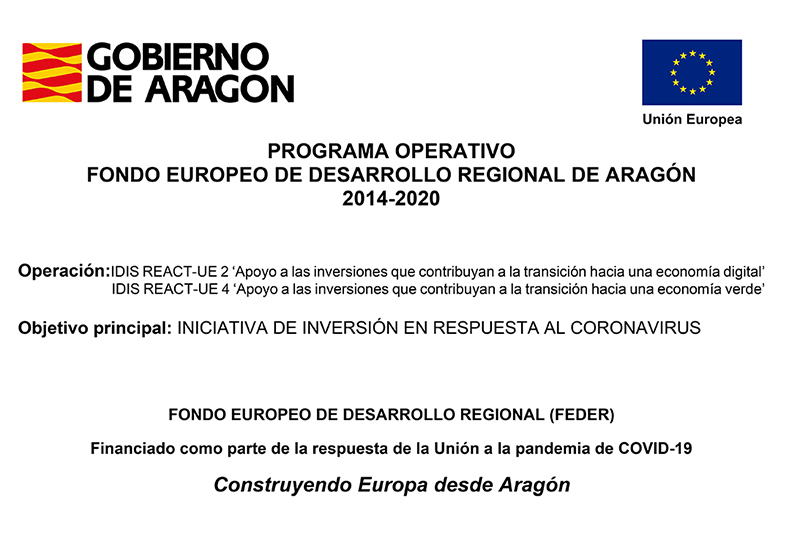 Novapet energy efficiency actions
.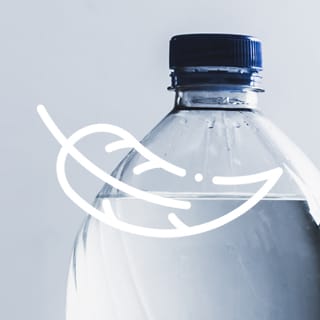 Weight reduction of material
Since 2016 Novapet® has decreased the weight of its preforms by an average of 15% with the consequent reduction of the carbon footprint.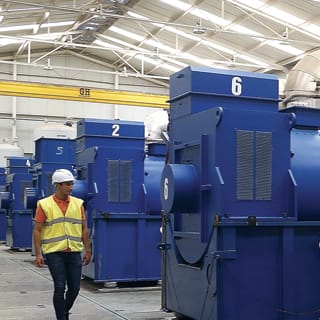 Trigeneration energy plant
In the 14,140 kW installation (gas – cooling – steam – energy efficiency), with HTM heating with exhaust gases.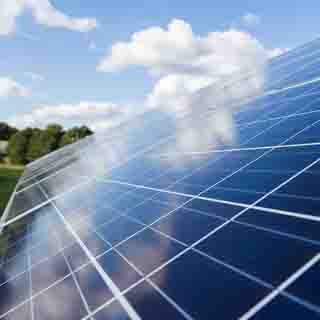 Creation of the largest photovoltaic park for own consumption of Spain
With an area of 305,500 m², 105,000 m² of solar panels, which will produce 15.2 GWh/year.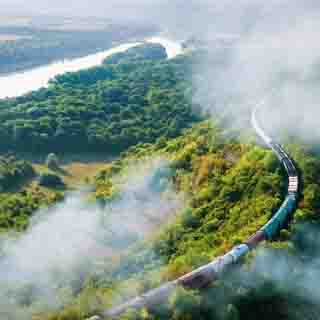 Reduction of 80% of the CO₂ emissions in transport.
The start-up of our Intermodal Terminal (TIM) has reduced more than 80% of the CO₂ emissions to the atmosphere due to the change of transport of raw materials from highway to railway, between the ports of Barcelona and Bilbao and our Barbastro plant.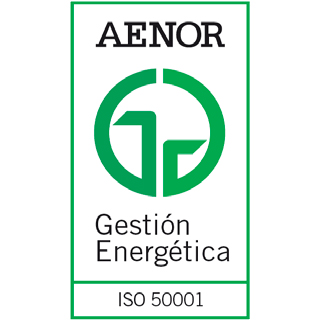 Energy management certification
Energy management certification in ISO 50001:2018.
Selective collection of PET
Selective collection of PET Selective selection of PET. From 2019 Novapet is a pioneer in private projects for the collection of PET containers.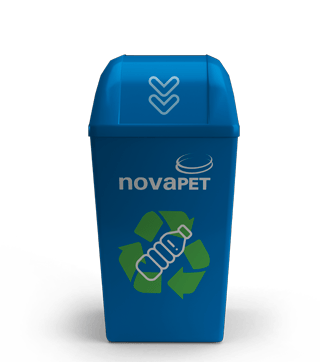 Best environmental practices

Treatment of 100% of the water from processes
by MBR technology to eliminate contaminants in spills.

Substitution of cardboard packaging
for preforms by returnable metallic packaging, reduction of 50% of the use of cardboard packaging.

Analysis of the carbon footprint

Evaluation of environmental issues
throughout the product's life cycle.

Control and monitoring
of our processes in order to detect early possible environmental effects, as well as the continual training of personnel to achieve the environmental objectives.

Environmental management certification